This year has flown by, we can't believe is already July!
We have had a blast guiding and teaching your children so far, we can't wait to see what the next 5 months hold for us
We have celebrated Australia Day, splashing in the sprinkler, jumping in puddles, eating sausages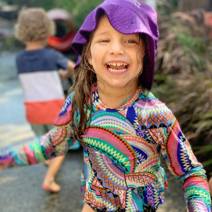 going for a walk down to the park to play cricket. The children had a blast, as you can see with the massive smile that one of our children had while feeling the nice cool water around her.
In February, we enclosed the back verandah. We thought by closing in the verandah we can use it in all weather types and make it into a dining room, so that the older children don't need to pack away their work for meals meaning they can be building with Lego and leaving it out for them to come back to after they stopper lunch or morning tea.

Throughout March, the centre was assessed and rated. This is a process where a representative from the Department of Education comes in and looks at the policies and procedures, the interactions between staff and children, the quality care we give the children and the quality of our environment we provide. This process is long and is a lot of work for staff and management but it gives us a sense of achievement at the end knowing we are proving a high quality of care for the children and families we have enrolled at the service.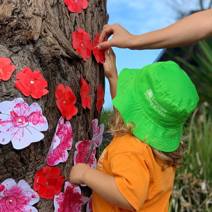 Then in April, we had a visit from the Easter Bunny! The children put on a parade for their families and friends showcasing a special hat they made at the centre. They were so proud of their work and did a great job at smiling, waving and being brave in front of the over 100 hundred family and friends at the centre.
We also had our very own ANZAC day ceremony, the children made poppies and we went out into the carpark and listened to the last post and
For May, we celebrated our mums!